Today is our last full day in Paris, tomorrow we leave early for Lyon and then to Montreux for a few days before heading across Italy to Munich.
We decided to go to the Notre Dame, because you can't go wrong with the tried-and-true tourist attractions, and at Ellen's insistence to the Musee de l'Orangerie, because it has Water Lillies, by Claude Monet.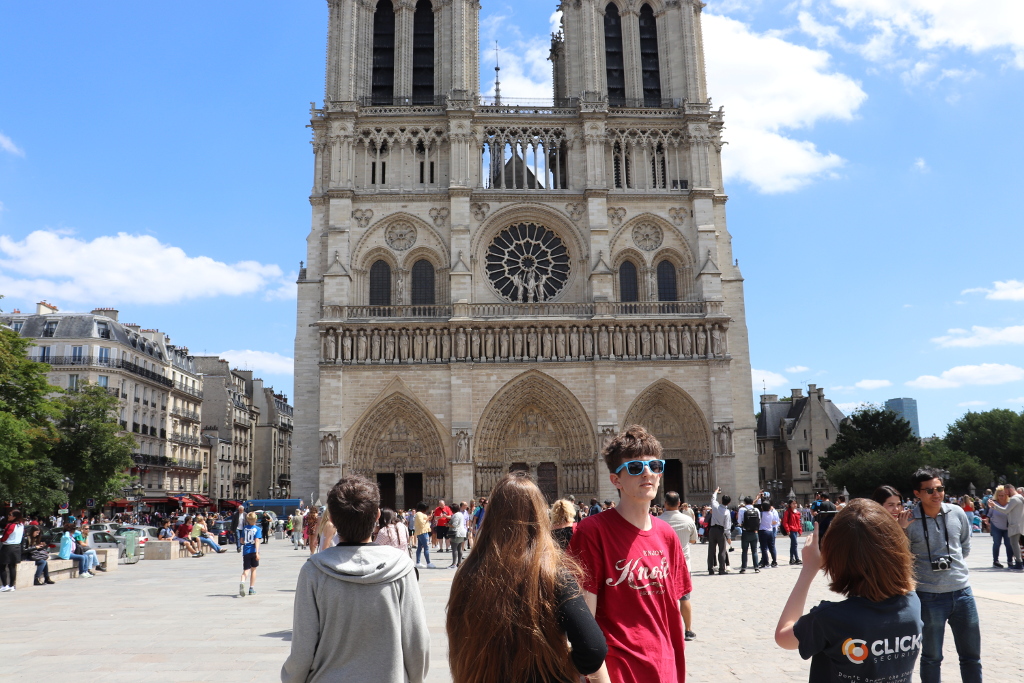 The Notre Dame was big, and crowded. Tourists everywhere. Also, police patrols and uniformed military everywhere. As an American, I found people in camouflage carrying automatic weapons in a civilian setting (not a parade, either) offensive. I'm only okay with militaries being in countries they aren't supposed to be in. Or in military bases (more okay with the latter).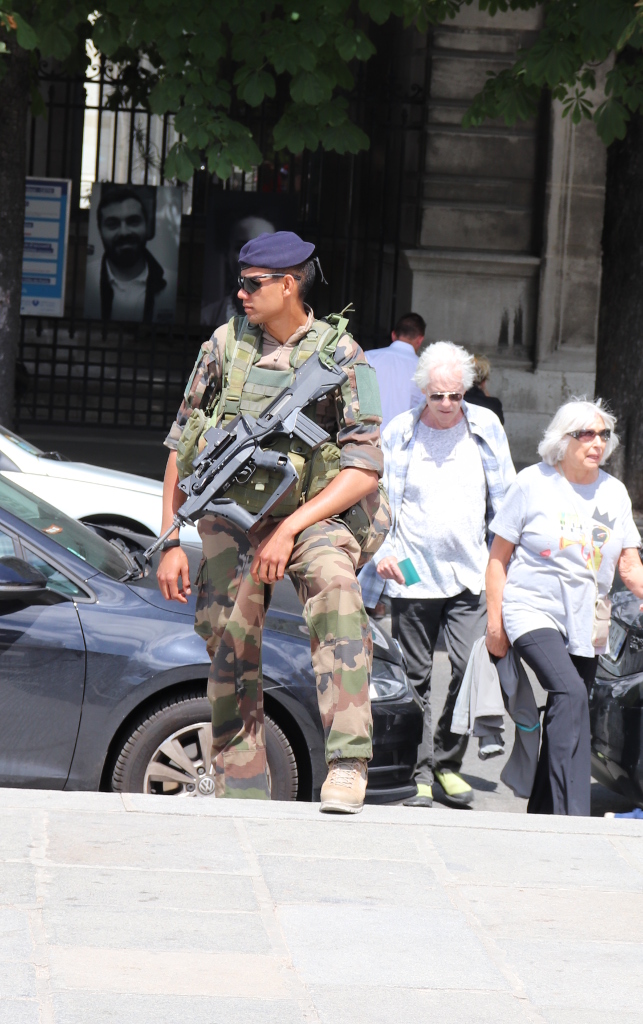 Either way, since it was late in the day and we wanted to go to l'Orangerie, we decided against going inside. So we walked around it, and admired the buttresses and the gargoyles.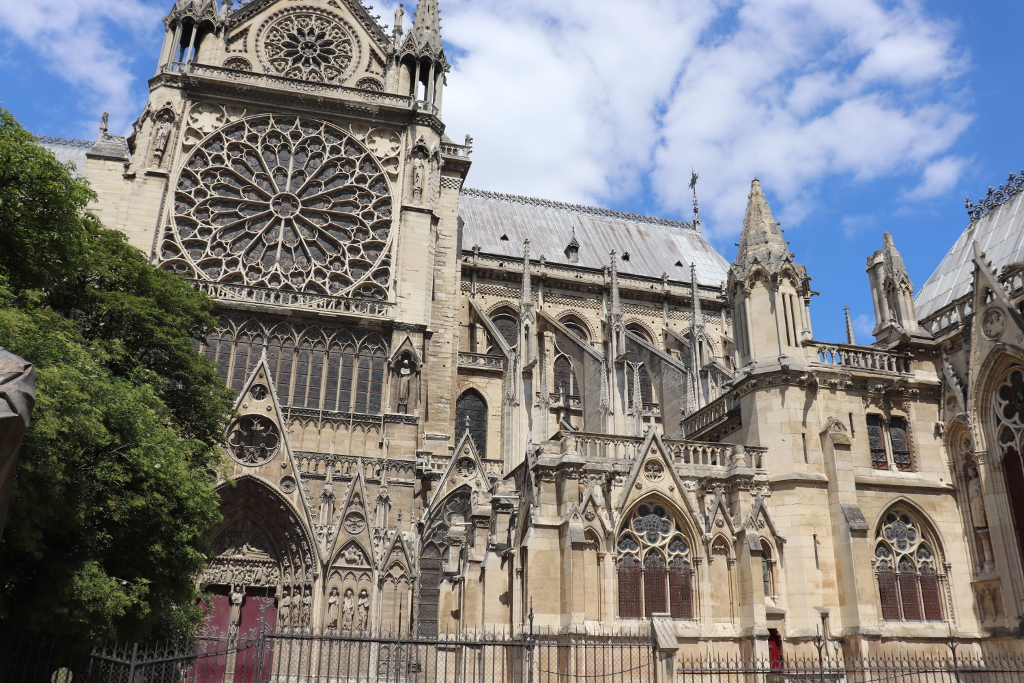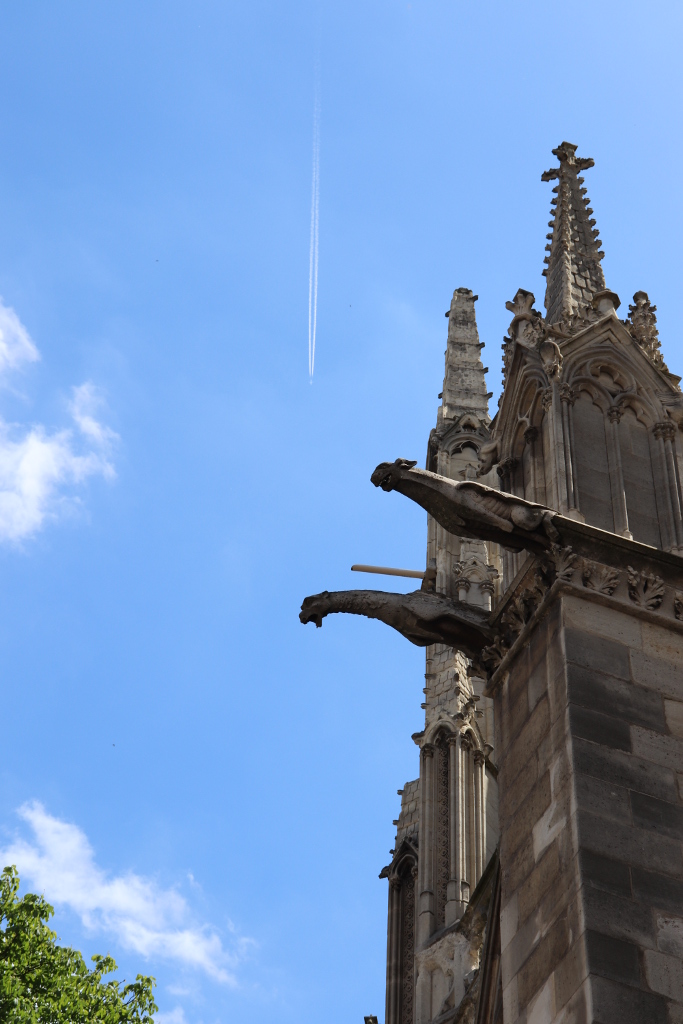 This building has the fanciest buttresses I've ever seen (they're around back). There were at least a dozen arches flying through the air supporting the walls at their ends. Channels for rainwater ran on top of the buttresses, carrying water down to the gargoyles below.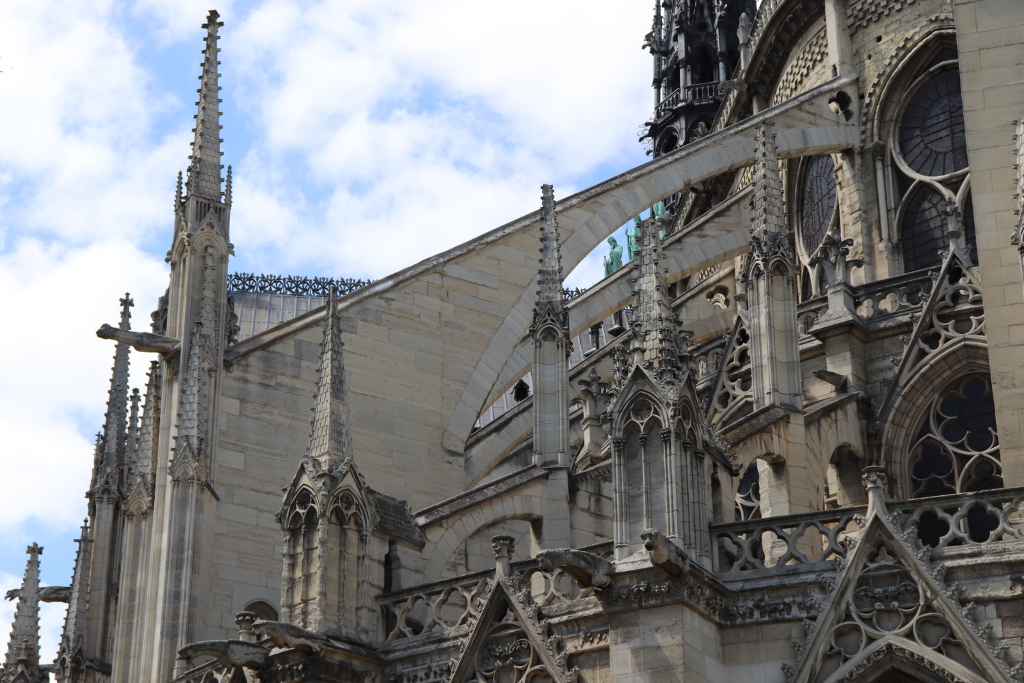 As usual, we all enjoyed the Notre Dame in our own ways. I took pictures. Jason made silly faces while jumping: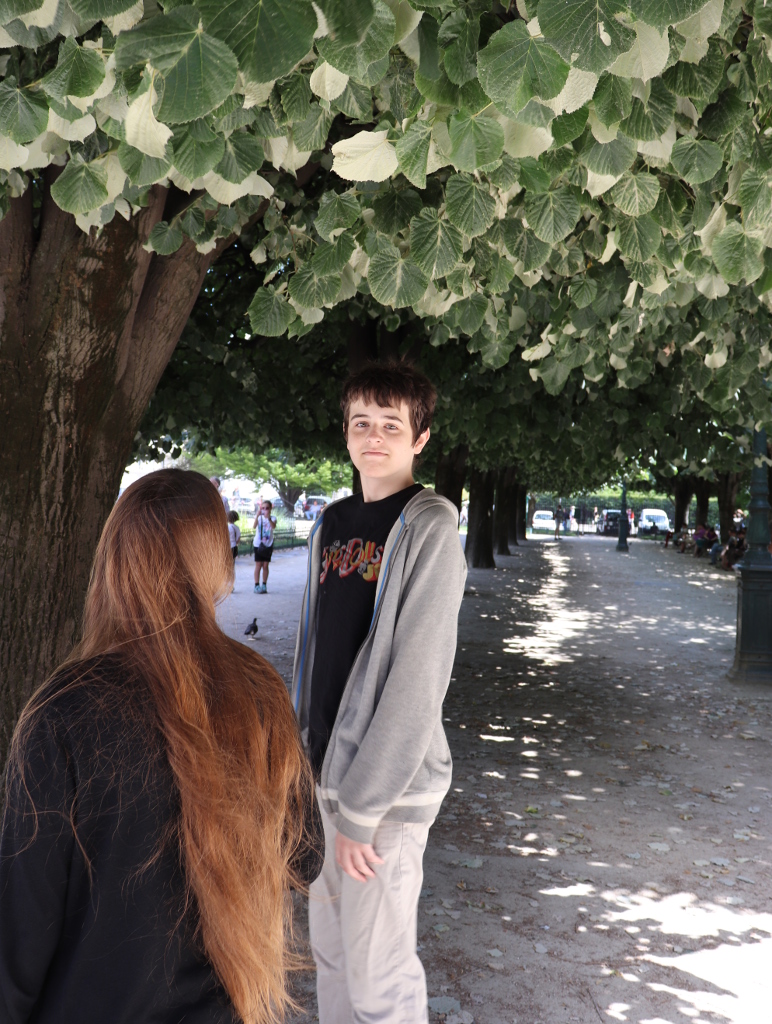 (yes, he is about 8 inches off the ground in this picture), even Ryan found his own way to appreciate the intricate architecture.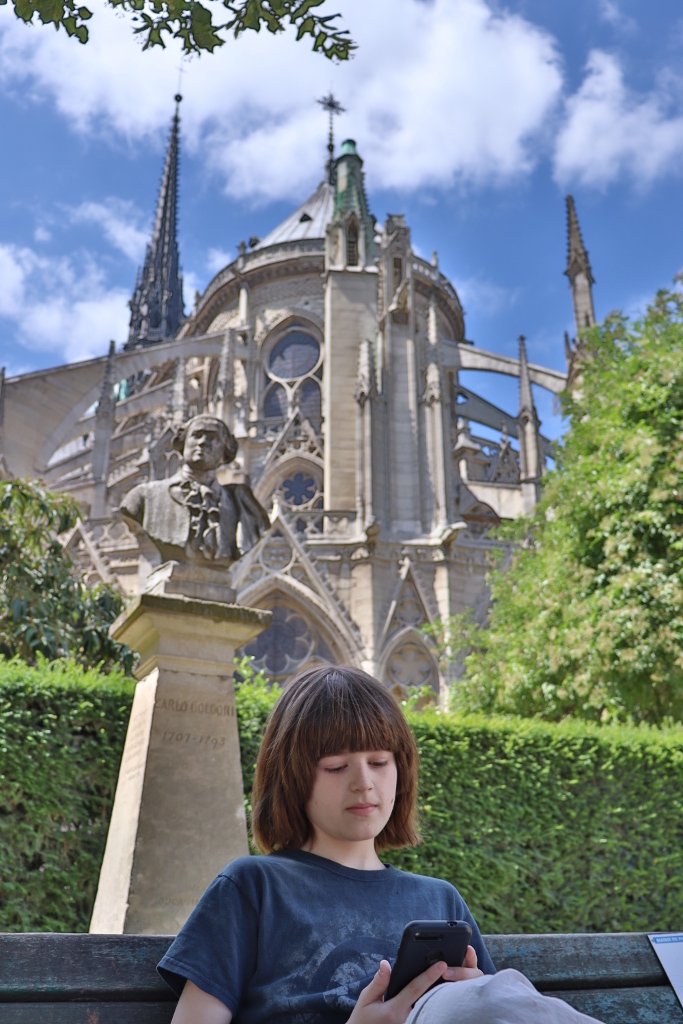 We stopped in a souvenir shop on the way off the island (Notre Dame is on an island on the Sienne). I bought Paris socks, for obvious reasons. Then we took the metro over to l'Orangerie.
To get there we had to walk through the garden that extends the Louvre (the Louvre is long and thin - the open end continues into this garden). The garden had large ponds we could sit and stare at for a while.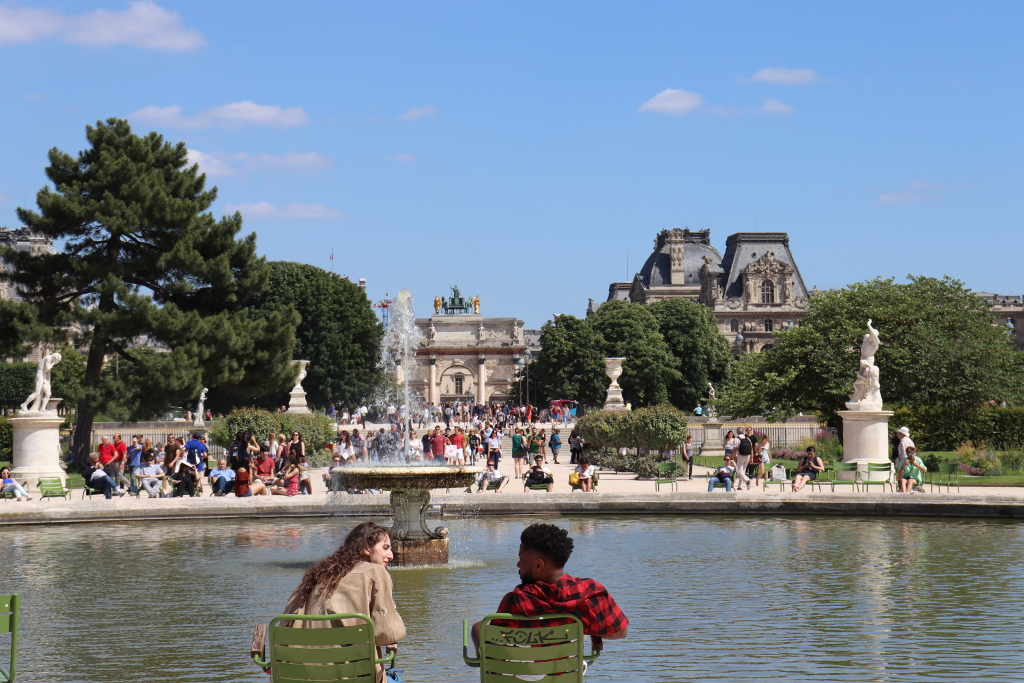 Despite the heat (over 30 degrees! Celsius, of course), it was wonderful just to sit with our feet resting on the edge of the pond.
Inside the l'Orangerie, we saw Water Lillies. I had expected it to be a standard-sized watercolor hanging on the wall somewhere.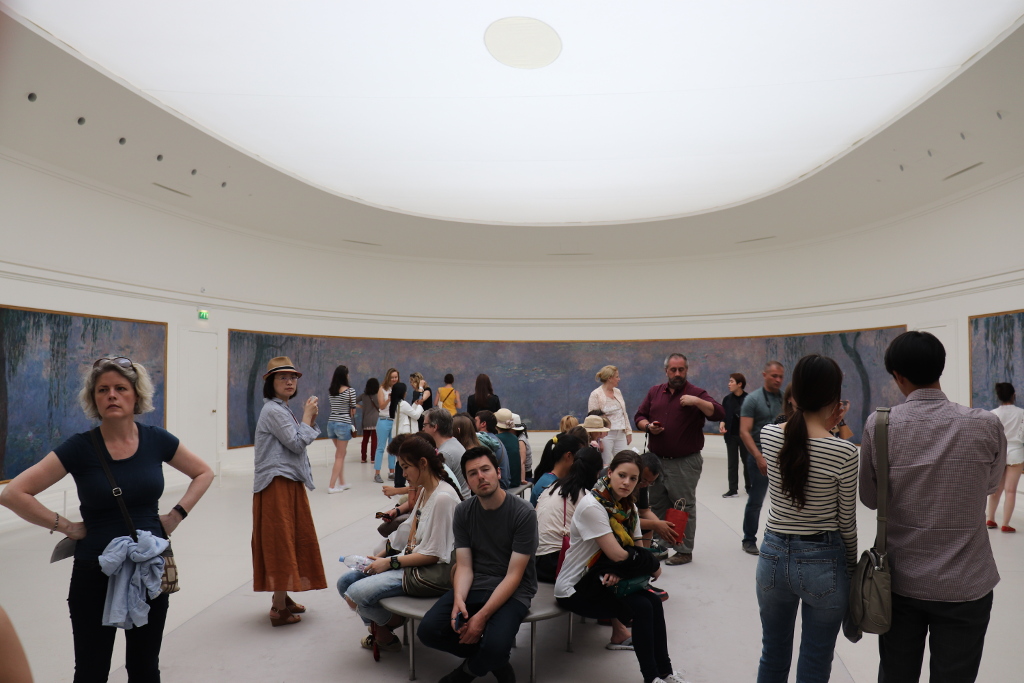 It was not. It had its own room. It had its own two rooms. Large rooms, and it filled the walls. We walked around in awe of the size. Apparently Monet was pretty much blind, so this painting is a painting of his home as he saw it.
It was fascinating to see a different perspective.
The gallery had other arts, as well. Mostly from the same time period. There was a sculpture of Rodin. There was a wall full of Renior (pronounced ren-uahh) paintings.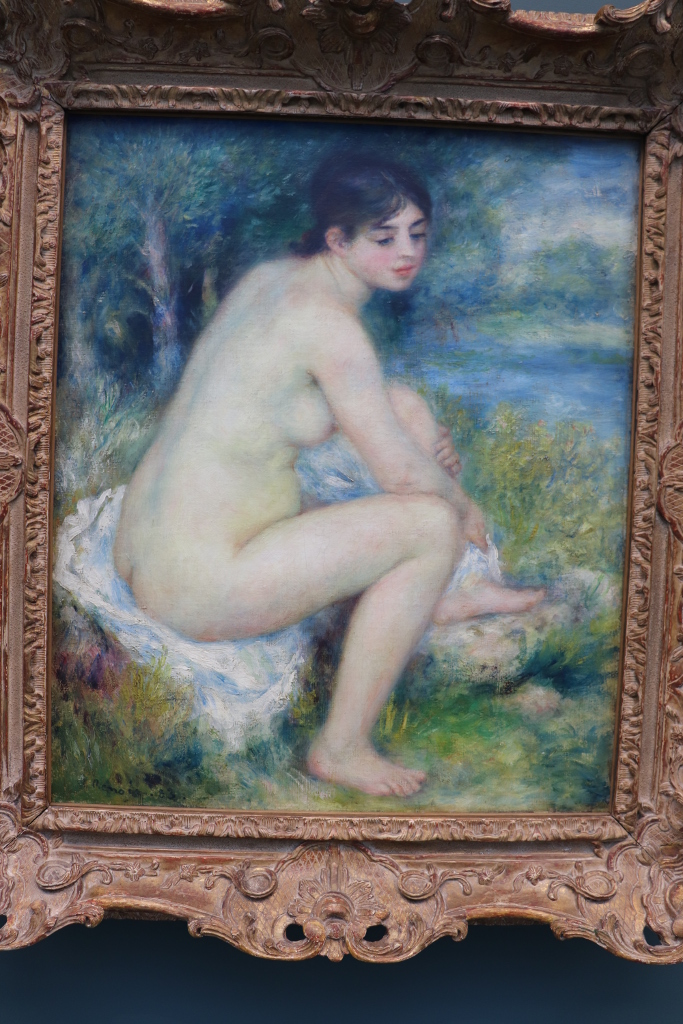 Renior paints distinctive faces - they all look like that, regardless of the body they're on.