We've started to fray at the edges. Everyone's been super troopers for the whole trip, but we're tired. We've been going to sleep at midnight and waking up at 8 since Montreux, often for reasons outside our control (taking a wrong turn, getting the wrong fuel, having a long drive anyway).
So we tried to sleep in. We really did. Jason succeeded, and slept until 2 in the afternoon. I don't sleep in, but that's okay, I got some time to sit on a couch upstairs and catch up on blog posts (all the ones from when we got to Montreux to when we got to Verona were written that morning - hence the irregular schedule).
Dad and Kayla woke up around noon, but were pretty bleary eyed and ostensibly went back to bed for a few more hours. The four of us played assorted Italian games: Ellen and I read cards from Italian trivial pursuit, and taught ourselves a tiny bit of Italian by inferring words based on the answers. Then we played Scarabeo, which is essentially Scrabble but some tiles have a scarab beetle on them, and there's an egg timer. We couldn't read the rules, because they didn't phrase things like a trivial pursuit game ("How many tiles are dealt to each player at the beginning of the game?" "Eight"). So we played normal English Scrabble instead, with the Italian letter frequencies.
It felt like Italian has fewer vowels than English, and more of their consonants are weird ones.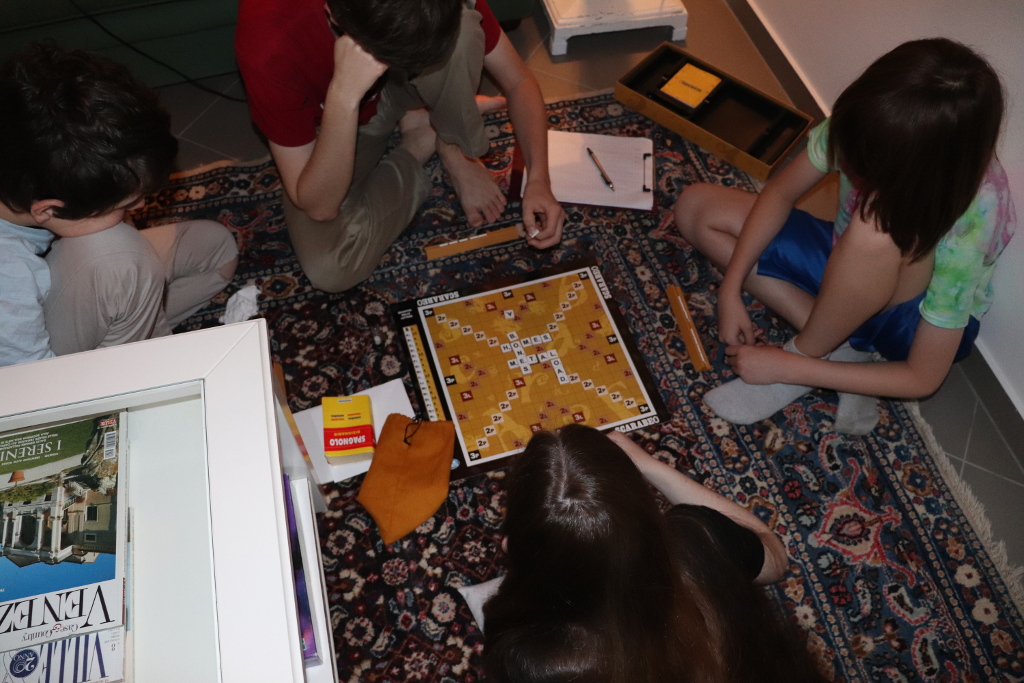 By the time the others had woken up enough to go, we were bouncing off the walls. We left in time to catch the 6:20 train to Venice. We had meant to catch the 5:20, but we left exactly when Google Maps said we had to leave to get there at 5:20, so we missed the train. We got to look at the place the station was named after, Porta Nuova, which was an old gate in the city wall, back when the city was made out of rocks and had a wall with a gate. There was a distinct lack of informational signs on the building - it wasn't open for tours or even going inside, and trash was strewn about. It felt very much like someone owned it, and was just waiting for the permit to tear it down.
It's a problematic situation - on the one hand, keeping old historical buildings is a cool thing to do, because then I can come and look at them. But on the other hand, it's sitting on prime real estate right next to the train station. A restaurant would make much more money.
We don't have that problem as much in America, where we have plenty of land and very few historical monuments. I hear (from someone who's from Italy) that it's a much bigger problem there, since new construction is constantly being stopped to do archeology.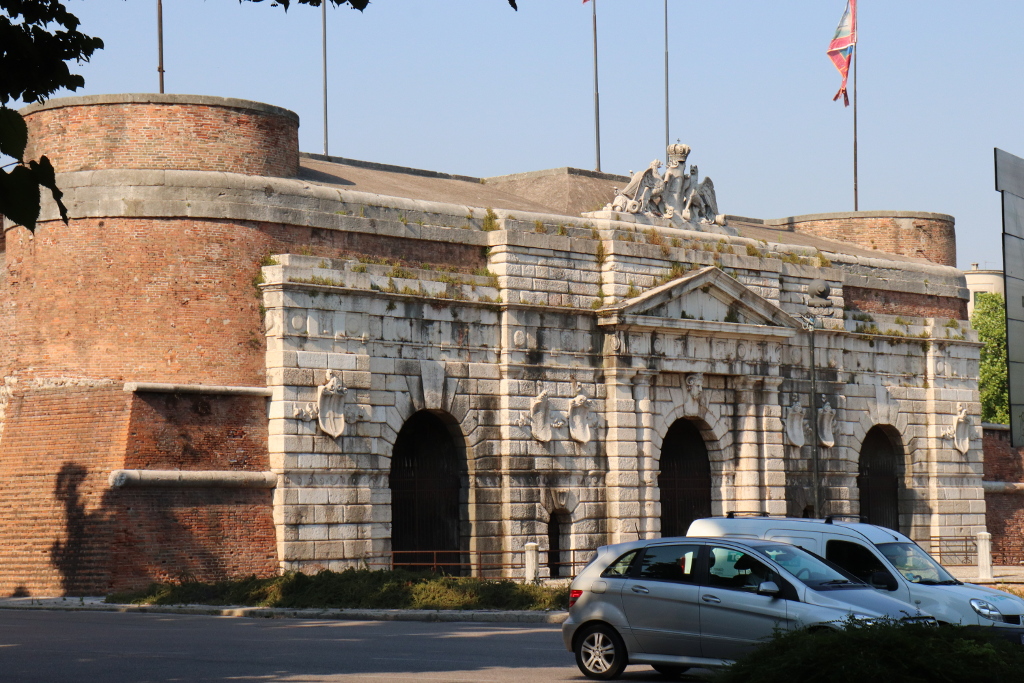 We got on the 6:20 train to Venice on time. We got to Venice at 8:00, after a 10-minute delay and a hour and a half ride.
Arriving in Venice was breathtaking, even if we had so little time. Walking out of the station presented you with the Grand Canal, which is the main road of Venice. Being Venice, of course, it's actually the main canal. Speedboats marked as taxis pulled into and out of docks along the river. Water buses chugged down the canal. An odd gondola pushed by occasionally.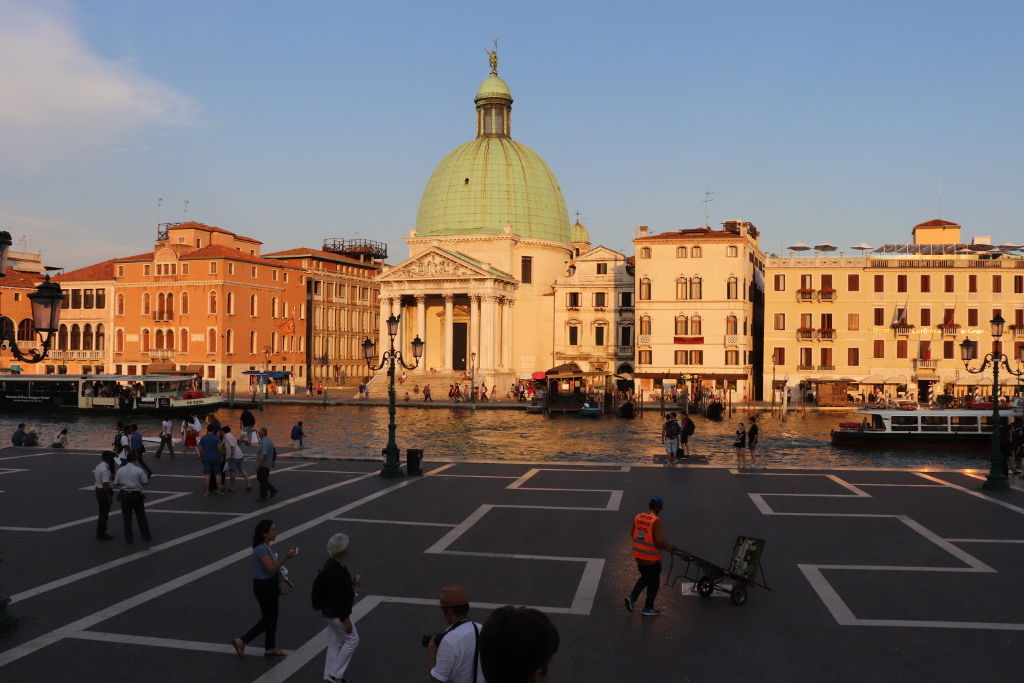 While the view was nice, we had to catch the 9:12 train back because that was the last train back to Verona, and while Venice is cool we didn't want to get stuck there overnight.
So we had an hour to do Venice and eat all the gelatos. There was one shop right by the station, where I got a tiramisu cone. Then we crossed the Grand Canal by bridge in search of a second place. We passed by assorted churches, which probably would have been cool if we'd stopped at them. We did find a second gelato place, I got strachiatella. The second place had a somewhat creamier gelato than most. Tip to gelato manufacturers: creamier is better.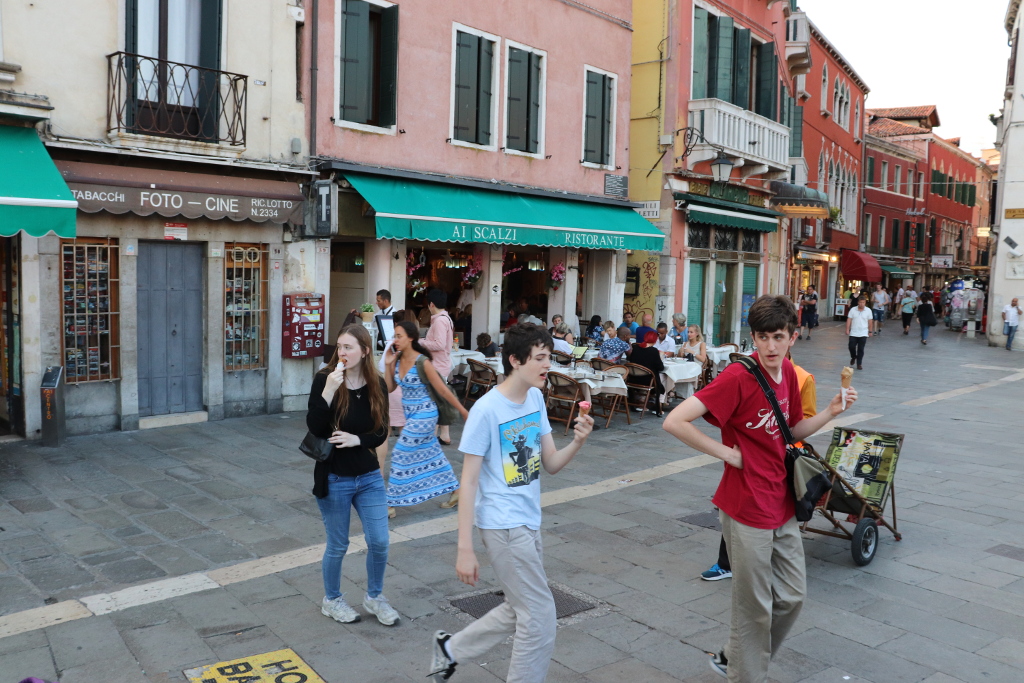 Then we left Venice. We got in two gelato shops, so a travel tip: you can't do Venice in an hour, no matter how hard you try.
Also it's nice in the evening, once it's cooled off a bit and the crowds are gone. Some say there's a smell, but they must be referring to the smell of the ocean, which I find pleasant. Also the weather on the ocean is wonderful, or so I've always thought. It's a nice stable temperature with a humid breeze off the ocean.
So we returned to Verona. We got back at 11, and decided to try to go to a restaurant that was a 40 minute drive past our house.
They were closed, surprising nobody. We got home around midnight, again, and had a late dinner of breakfast biscuits.