I saw a postcard today that was of a buxom lady, framed on her chest, holding a beer in one hand and a pretzel in the other. I felt like it decently well summarized the day.
The beer comes from when we went to the beer garden for lunch and the haufbierhouse for dinner/afternoon snack. They served pretzels at both of these locations.
The boobs, of course, come from the unusually high number of erotic shops we walked by.
Welcome to Germany, I guess.
We didn't have any distinct plans for the day, other than wander around the nearby city. Around 11 we set out to forage for lunch, walking across the brook by our house to the courtyard of the Deutches Museum to the other side of the river. There was a beach on the river, complete with sand and waves. After the cold water of Lake Geneva, Jason seemed a little less excited to go to this beach, perhaps afraid it would be cold as well.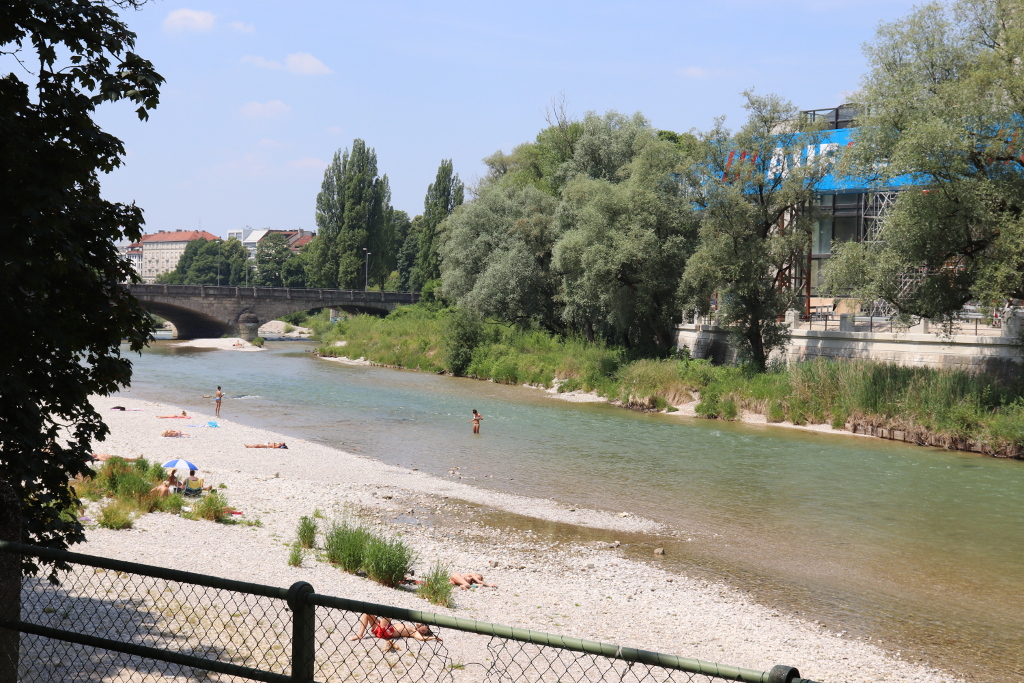 One thing I've seen throughout Munich (and a few places in Florence as well) is padlocks with peoples names on them padlocked to bridges. A strange declaration of love, I've always thought, but one that we've come across from time to time. And here in Munich the padlocks are spread out geographically - they aren't all put in a single bridge, but there's generally a half dozen on every bridge we walk across.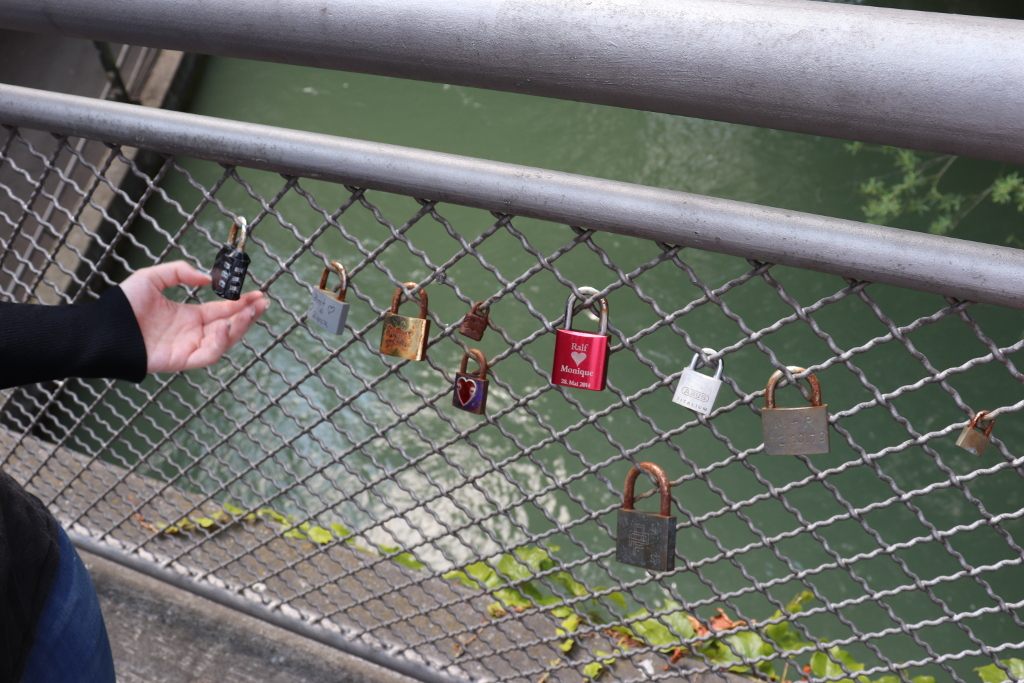 Halfway across the river, on a river-island, is a technology museum called the Deutches Museum. We didn't go in, but based on the things they had in the courtyard, we decided that we simply had to go at some point. Admission is cheapest on Sundays, we're planning to go then.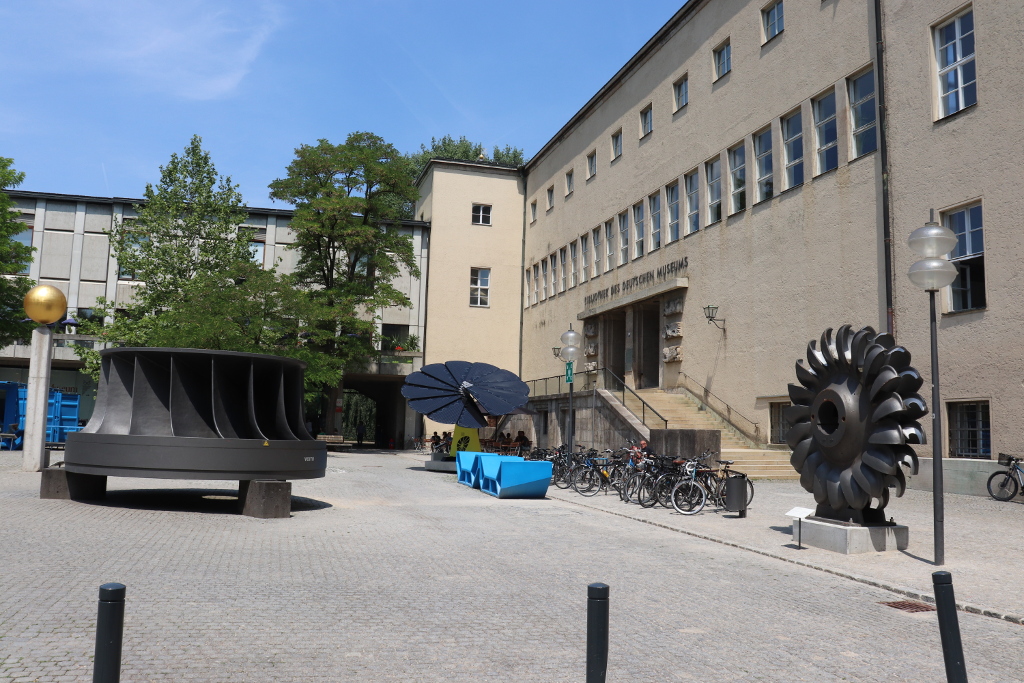 Finding food that was acceptable to everyone was no easy task. We discussed at least four different places, but with Kayla vetoing pizza, the younger three only eating pizza and American steak, me only willing to try European foods, and Dad wanting a traditional German breakfast, finding a place became difficult.
We did walk by a Pizza Hut. The word "hut" in German translates to "hat" in English, and Pizza Hut's logo is a hat. So Germans read it as "Pizza Hat."
We did eventually find a beer garden everyone agreed on (well, the older three. The younger three didn't have a choice). I had a currywurst, which is essentially a giant hot dog covered in a slightly spicy ketchup (technically it's a sausage, but the texture was more hot dog than sausage).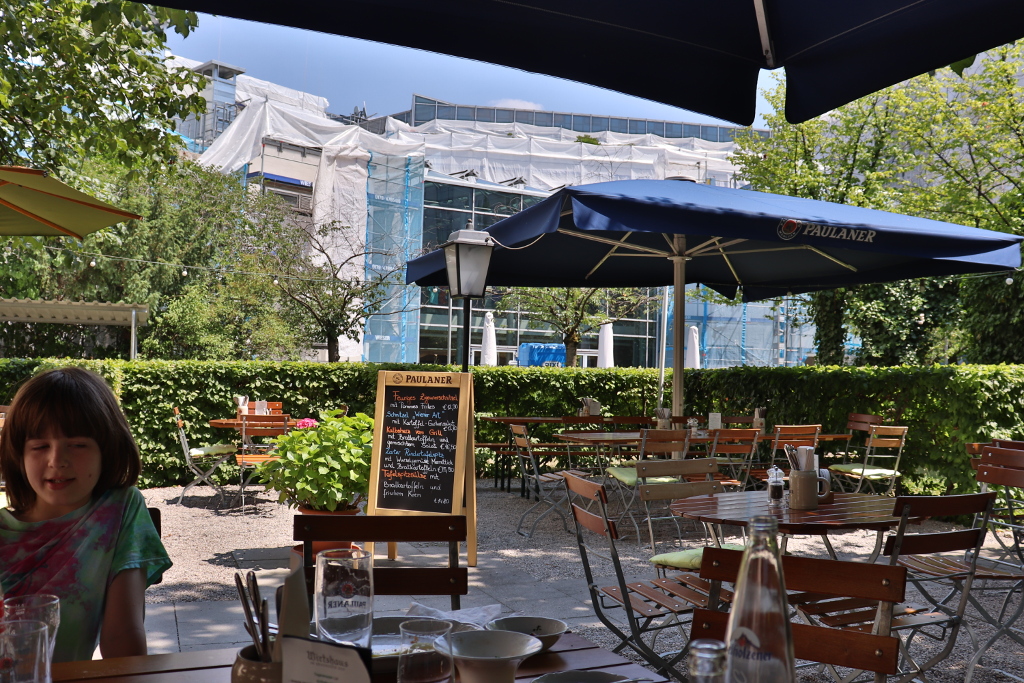 I thought it would be the wurst, but it actually ended up being my favorite food of the trip so far. (Just kidding, I actually thought it would be pretty good)
Yes, it even surpassed the many Italian pizzas we've had so far. And I'm quite the pizza aficionado.
Afterward, we wandered down to an old cathedral, built in a characteristic super ornate gothic style. It had a clock on it, which at noon and five some marionettes came out and did a performance detailing the marriage of a royal family as well as the end of the Black Plague.
A strange juxtaposition, to be sure, although technically both are things to celebrate.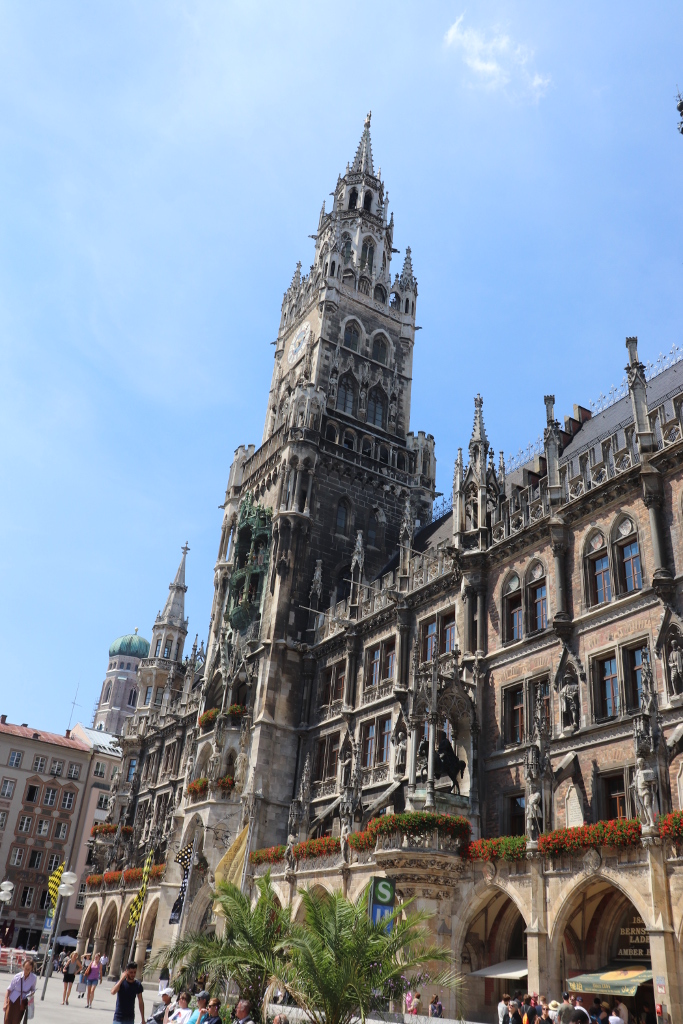 We arrived shortly after the noon performance, so we decided to come back for the 5:00 show. We headed through a market, looking at some of the wares they had, and then split into two groups: Kayla, Ellen, and I stayed in a bookstore and looked at postcards while the other three went back to the apartment for water and rest.
It turns out they have the same respect for Donald Trump as we do back in the states.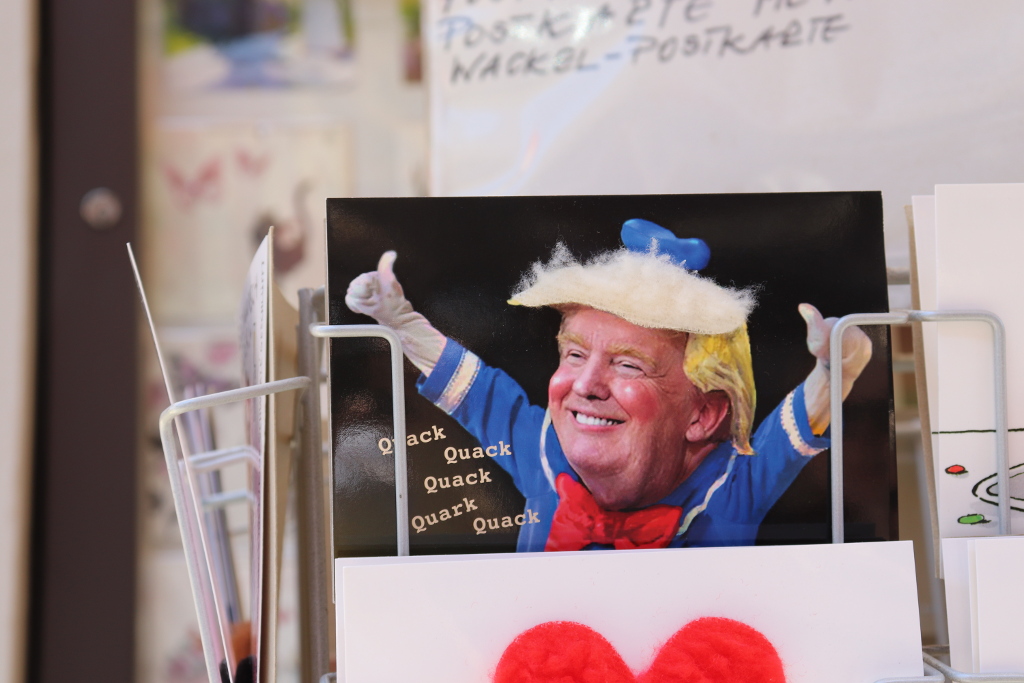 Along the way we saw a street performer playing with cups of water. As in, a table full of water cups filled to varying levels were his instrument. Ryan was quite impressed by the feat - in school a few semesters ago he had built a similar instrument, albeit with fewer water cups.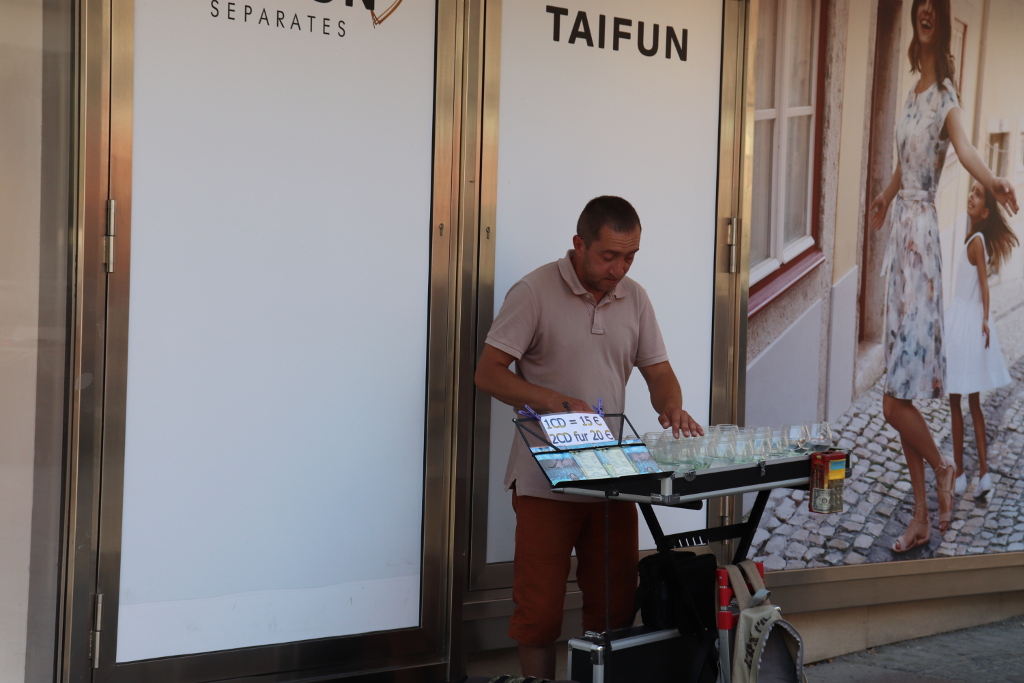 Here in Germany there's a lot more public water fountains. Not the ones in America where you push the button and get a tiny stream of almost-boiling water. These are a continuous stream of cold, refreshing, drinkable water. On the hot day that it was, it was nice just to splash some cold water on your face. We also tried to drink from it, since we were pretty thirsty, but ultimately mostly failed in catching the water in our hands and bringing it to our mouths.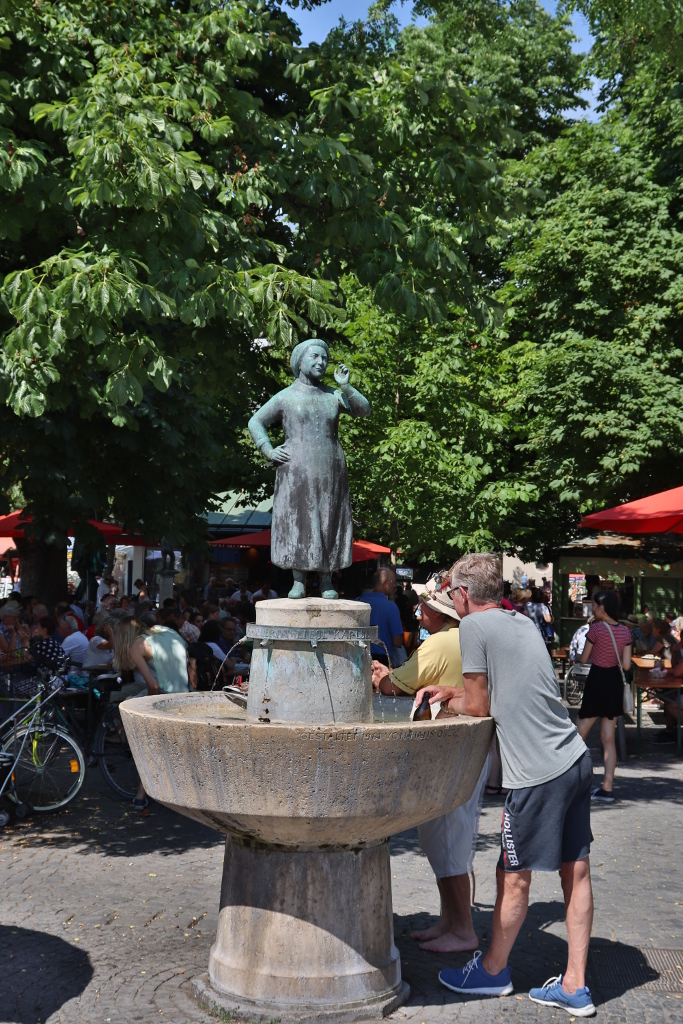 Despite the failure, we still had fun trying.
There's also a lot more children in the streets, it seems, and groups of people in general (up to about college-aged). In Italy there were a lot of couples, but here children seem to be the rule. I suppose they're less lazy here than in other places, like the U.S.
The marionette show was nifty - some marionettes went in a circle, and some knight marionettes jousted and (spoiler alert) the red one lost.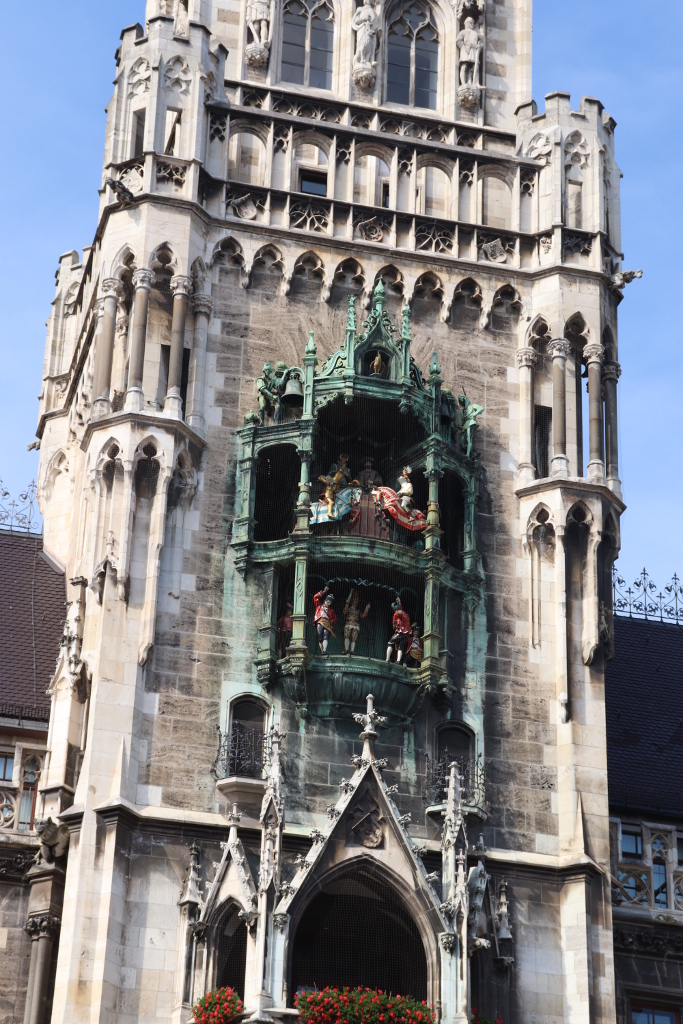 The other three joined us immediately after the show, as they had arrived from the apartment just as the show ended. We decided we'd have to come back another day.
After they joined us we decided to go to the haufbeerhouse (I'm largely unfamiliar with German, so I have trouble remembering the names of things, unlike with the romantic languages we've been immersed in so far).
At time of adding pictures, I've learned that it's actually spelled Hofbräuhaus. (these diaries are written in stages - the day of, I create the post and add a few random notes so I remember which day it was, which is surprisingly hard. Then a few days later, generally two or three, I write the post. Then I go back later and add pictures, usually adding more words to go with the pictures.)
The Hofbräuhaus was, essentially, a giant hall in which people drank beer and ate pretzels. The noise was deafening. I'm a loud person normally, especially when I get excited, but even I had to speak up to be heard. It was arranged a bit like Hogwarts, with long wooden tables laid out under the arching ceiling. People in blue dresses walked around holding pretzels high in the air, selling giant pretzels to any who wanted one.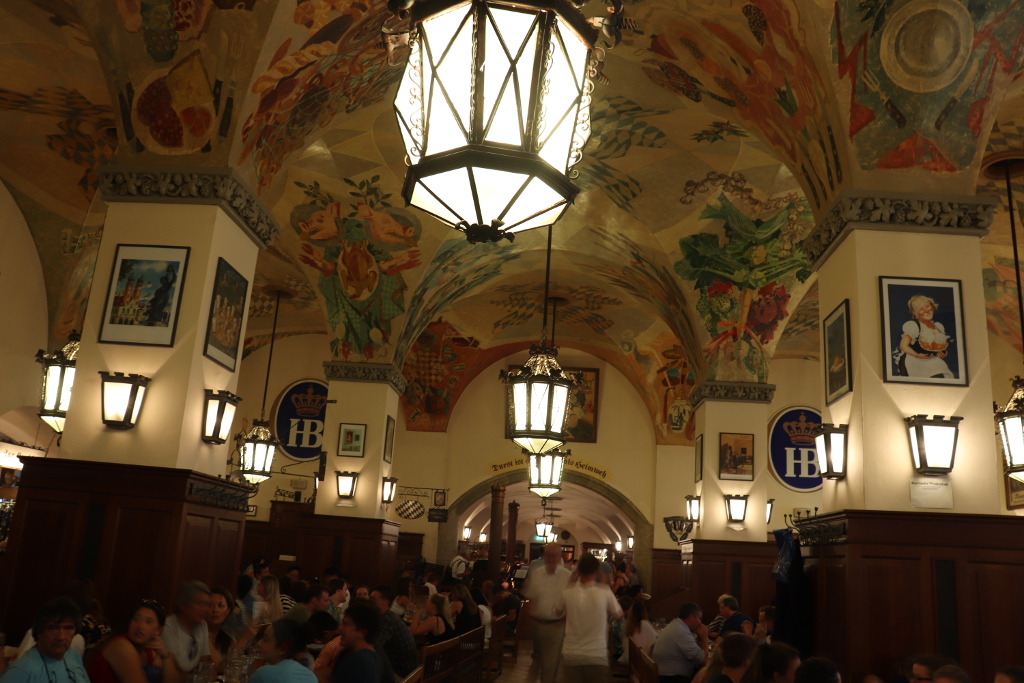 We sat down, and the four of us children ordered cokes - I'm not really a fan of the taste of alcohol. We got coke in half-liter steins, though, so we still got the experience. Dad and Kayla got beer in even bigger steins.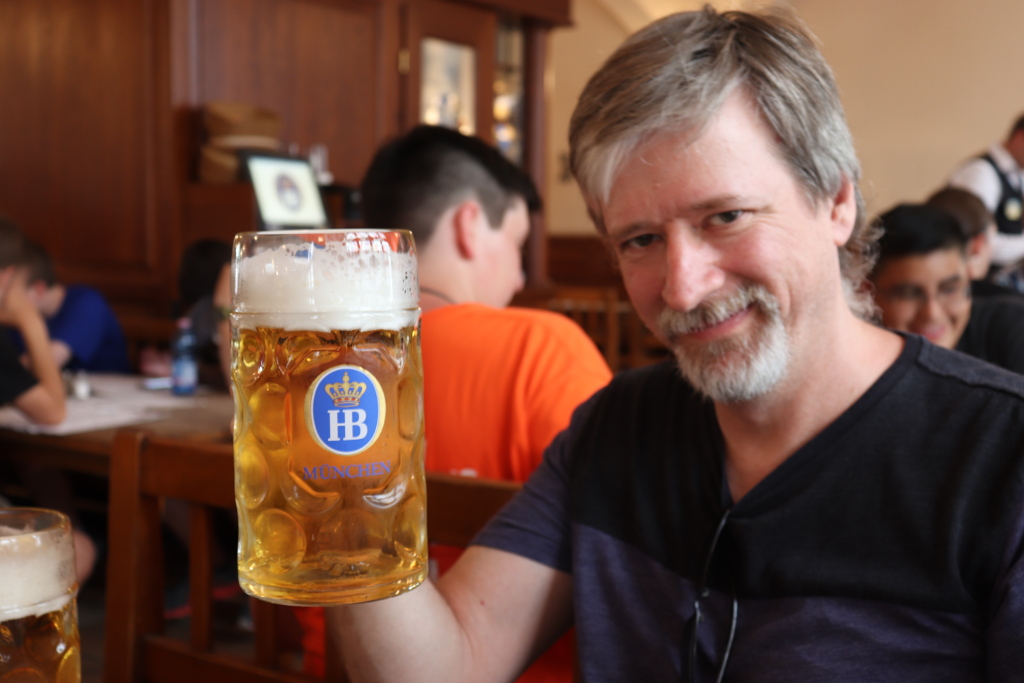 The noise was deafening, but once the indoor tuba band started playing traditional German drinking songs I thought it would be impossible to maintain a normal conversation. A friend of Kayla's met us, and the two of them yelled at each other over the table while we played cards.
Dad and Ryan left eventually, to renew the parking and get some rest, so the remaining four of us hung out for a bit.
Apparently it's traditional to carve your name into the table. So we did. Apparently some of the tables are the original tables from several hundred years ago, so it was like carving our names into the Pantheon.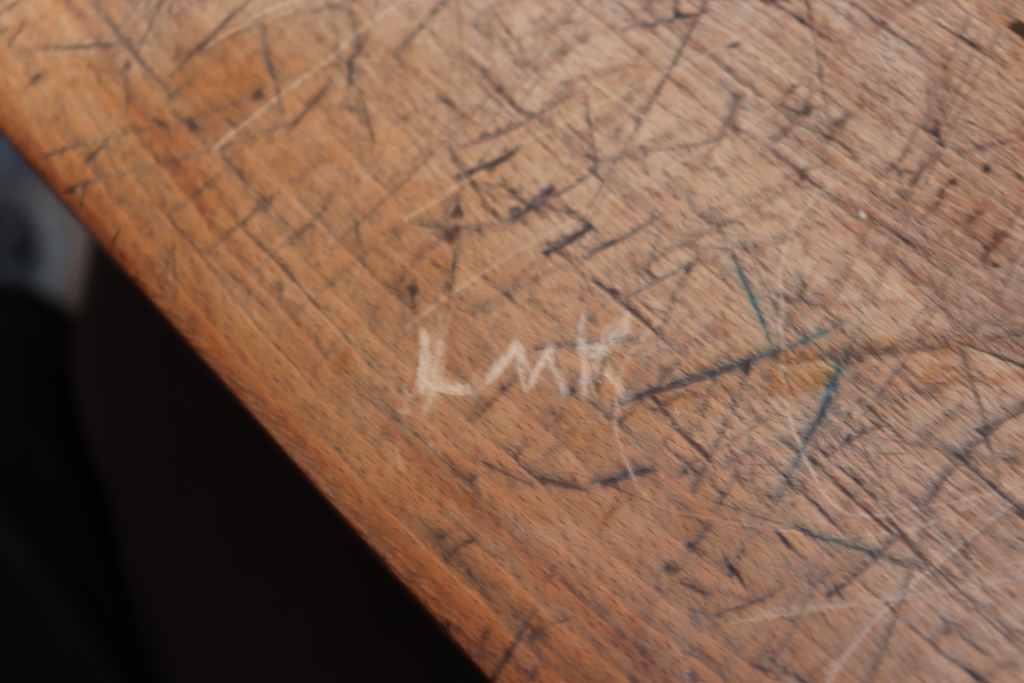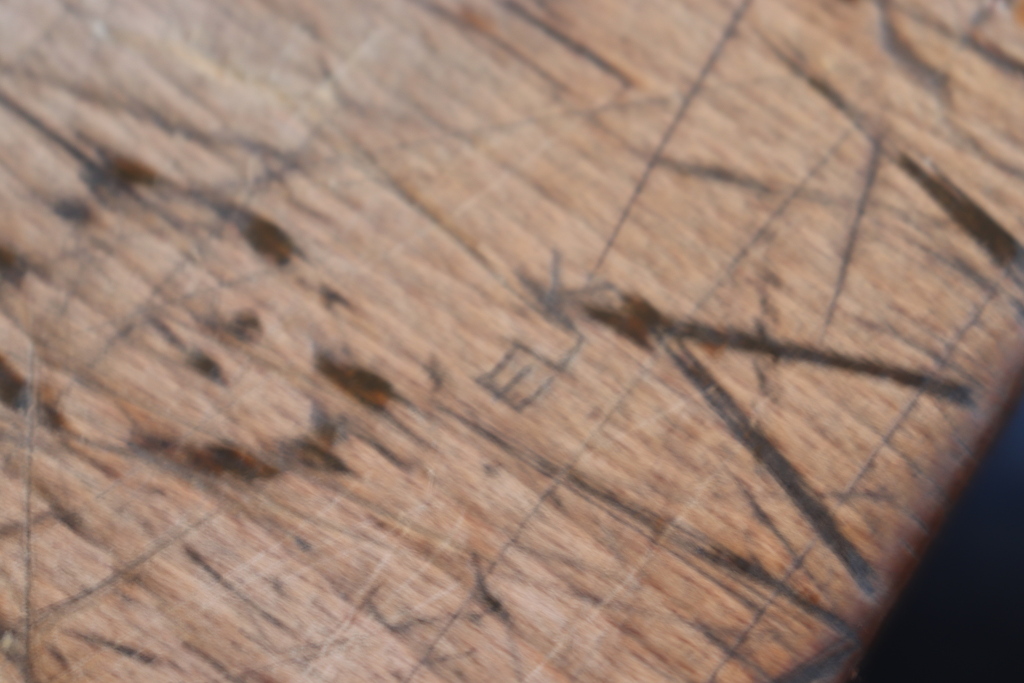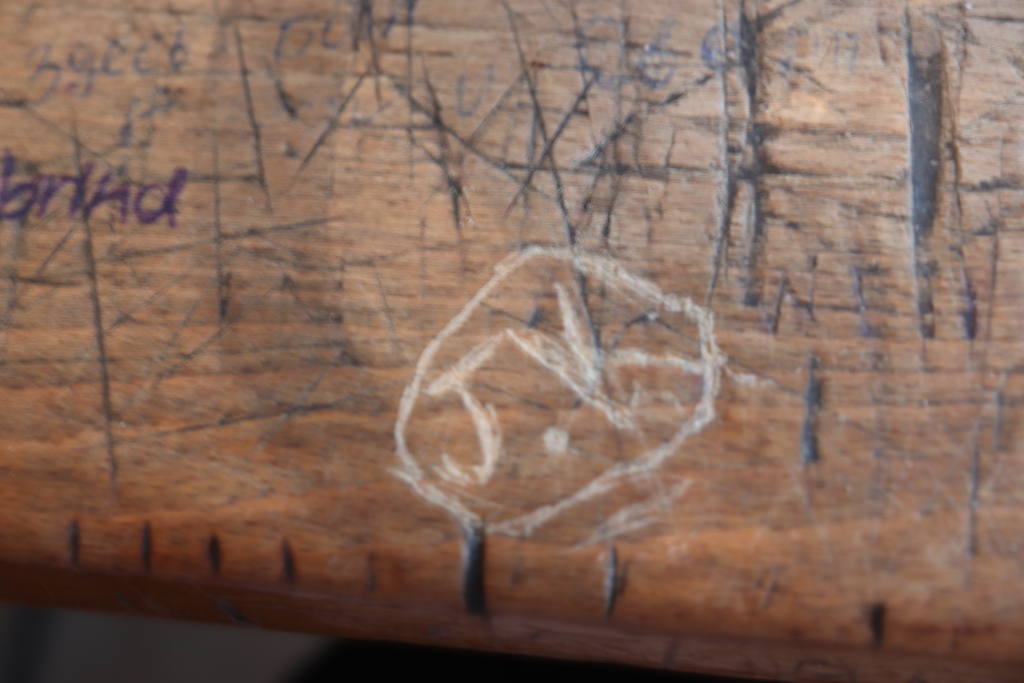 Drunk on a liter of coke (we eventually got seconds), we started taking some silly pictures of each other. I don't know if that's traditional, maybe it should become traditional.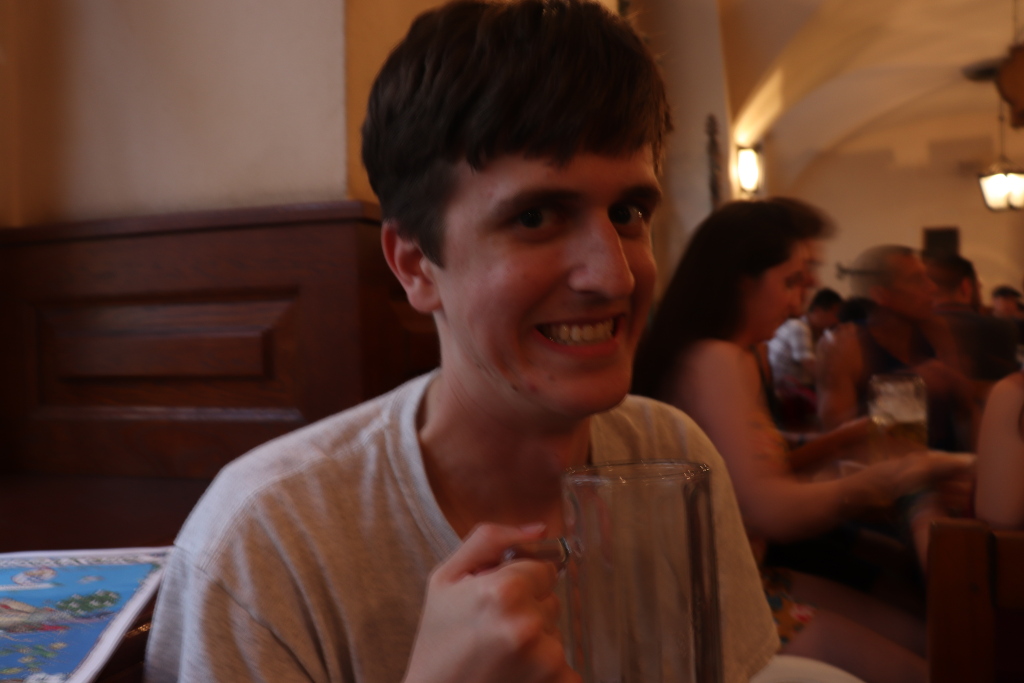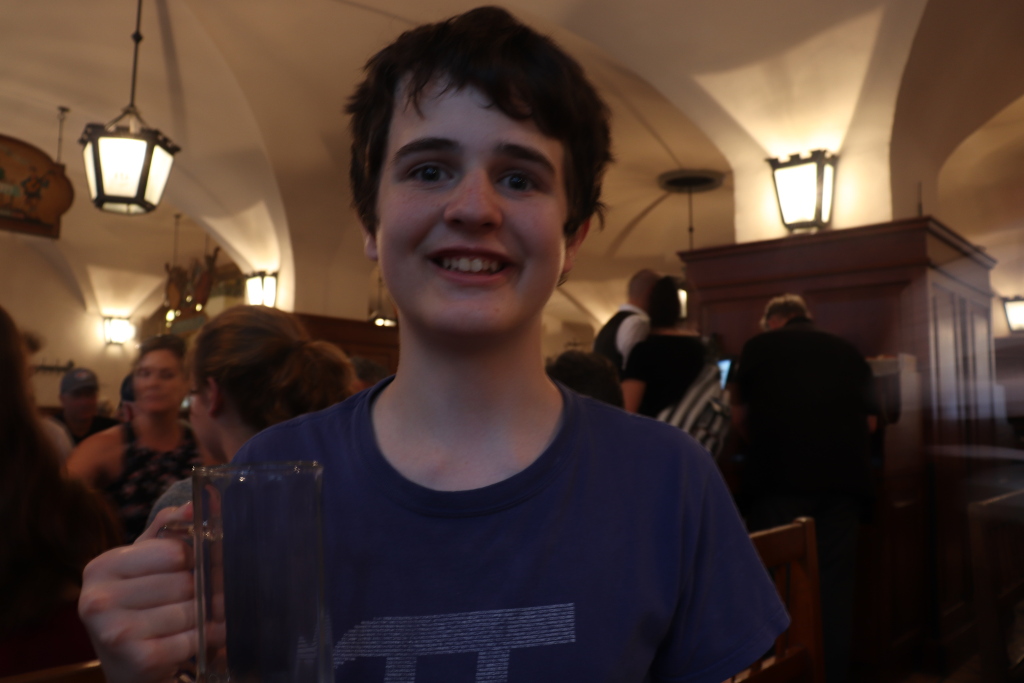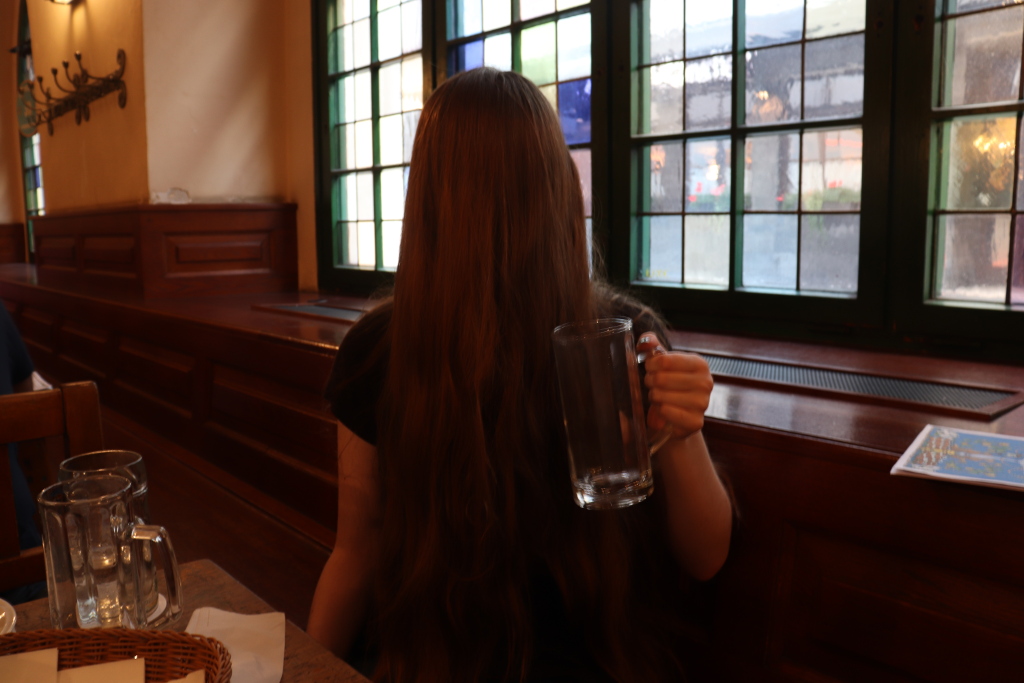 On the way back to our house, we ran across a club called "Distorted People." Its logo was a razor and a meat cleaver.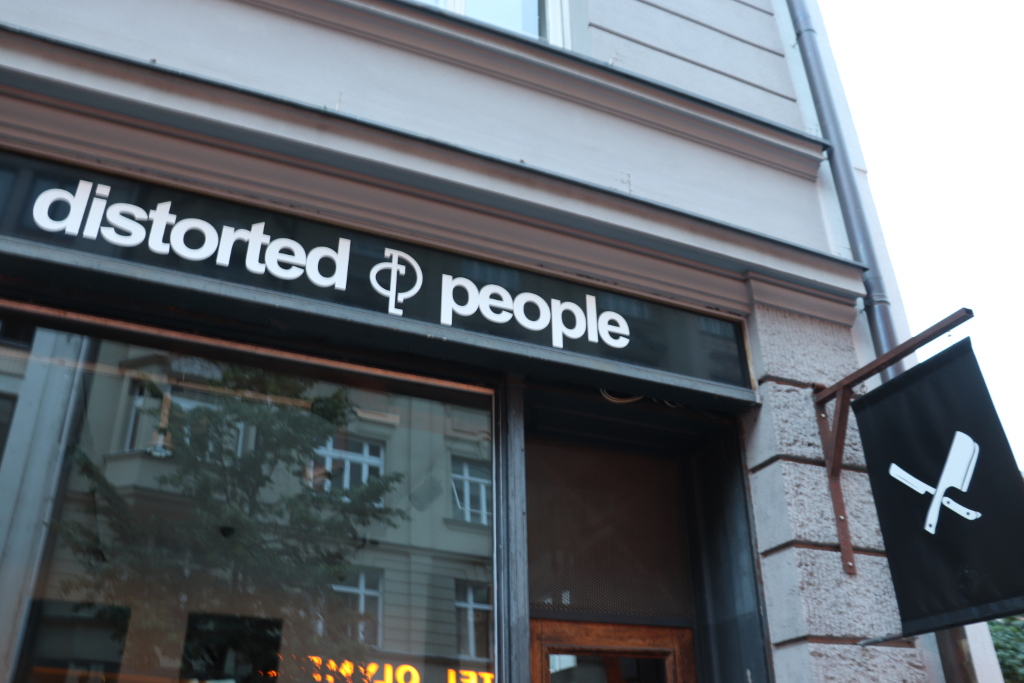 That pretty much filled up our creepiness quotient for the day.